We believe it is essential to book a professional Airport Shuttle service company, a solid one, and with experience to ensure they will be there waiting for you when you land at Los Cabos International Airport. Our Airport Shuttle prices are not only very competitive but have not changed them in several years. Even better, our transfer prices beat any major resort in-house Airport Shuttle Service charge and also some large website booking agencies.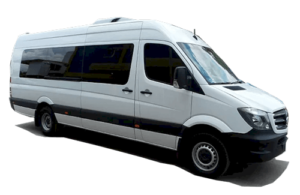 Mercedes-Benz Sprinter - One Way
Los Cabos means The Capes, and it's located in Baja California Sur, Mexico. There are two main towns in this municipality: Cabo San Lucas, usually called "Cabo" for short, and San Jose del Cabo. There are other smaller towns north of Los Cabos International Airport (SJD) named Caduaño, Miraflores, Santiago, and La Ribera. Between the main two towns (Cabo San Lucas and San Jose del Cabo) there is a 30 miles corridor. Along this corridor you'll find several of the current top resorts of Los Cabos.  
As your Airport Shuttle Service company in Los Cabos, at Dunes Tours & Travel we are committed with punctuality, service, and honesty. One of our main goals is to make sure all your Airport Transfers are safe and stress-free. Our friendly and knowledgeable drivers will meet you at Los Cabos Airport, waiting for you with an honest smile and, giving their best on every single transportation service we provide. When you are away from home you want to see a friendly face, a person you can trust 100%  that makes you feel at home. Every time you book your airport shuttle to Cabo San Lucas with us, you'll experience it. Our job doesn't end when we dropped you off that your hotel. It ends when we get to meet all your family and we all know each other middle name. Looking forward to meeting you soon in Cabo.
What Our Customers Say About Us