The fun starts when you book your tickets to Cabo San Lucas! But don't forget to book your Airport Shuttle Transportation!
We believe it is essential to book a professional shuttle service company, a solid one, and with experience to ensure they will be there waiting for you when you land at Los Cabos International Airport. Our Airport shuttle prices are not only very competitive but we have not changed them in several years. Even better, our transfer prices beat any major resort in-house Airport Shuttle service charge and also some website booking agencies.
Read the fine print when your hotel offers you Airport Shuttle Service Included, then compare it with our Airport shuttle costs. We'll be there for you!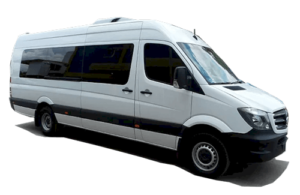 Mercedes-Benz Sprinter - One Way
Understanding your need for the privacy, we offer a deluxe suburban which accommodates up to 6 passengers at a time with 5 large suitcase and 4 small ones. Also, a bilingual driver will be accompanying you in your journey towards your chosen destination! He can guide you to the most famous tourist attractions that are complemented around the world.
Are you a group of more than 10 people? And do not want to travel separately? Don't stress about it, you can book for yourself a Mercedes-Benz Sprinter which accommodates up to 15 people along with their 12 large suitcases and 6 small ones and of course, the availability of a bilingual driver to accompany you around the place is a must!
As the coach has the capacity of accommodating around 45 people! This is the ideal way to transport your corporate or incentive groups. Make sure all your attendees get the opportunity to get to know each other from the get go, share experiences or sales tips! Needless to say, large luggage capacity and comfortable seats!